Cel-Fi GO Installation Hobart
Cel-Fi GO Telstra & Optus Mobile Phone Antenna & Booster System installations
Antenna Installation Specialists offer installation of Cel-Fi GO mobile phone antenna and boosters.
Are you sick of dealing with inconsistent mobile reception when driving around some of Tasmania's more remote areas? Even cities and towns can suffer from poor cell tower signals in some areas of the state. Thankfully, Antenna Installation Specialists has the solution for you.
If you're travelling in Tasmania, or across Australia, and seeking a stronger and more consistent mobile signal strength no matter where you go, Cel-Fi GO can effectively boost your mobile signal.  Compatible with all major networks in Australia, including Telstra and Optus. It's a versatilite mobile coverage solution ideal for using in vehicles, or in-building spaces with lower quality reception.
Our Cel-Fi GO Mobile installation service is an ideal solution for many problems, including calls cutting out or dropping completely, messages unable to be delivered, or inconsistent internet access.
This equipment uses advantec signal processing technology, and intelligent antenna design to monitor power levels of the cell tower to constantly adjust the output tower, preventing interference with Telstra/Optus's network to improve call quality and strengthening your phones signal.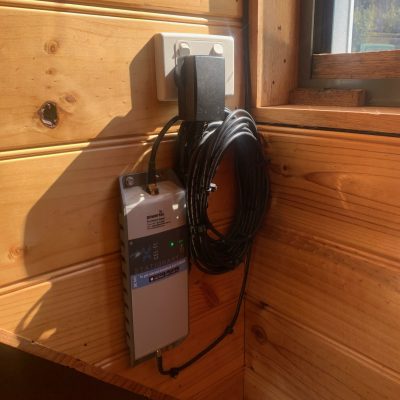 Hobart's Most Trusted Mobile Antenna Technicians
Leave it to Antenna Installation Specialists to install and set up your new Cel-Fi GO system. Our team are experts in all things antenna and satellite, which includes your phone's antenna equipment.
With our services, you will have peace of mind that your equipment is properly and securely installed, so that you can quickly get to enjoying amplified mobile reception when you're on the go.
High Quality Mobile Smart Signal Booster
The Cel-Fi GO Mobile is an ideal addition to trucks, motorhomes, caravans, vehicles, boats and other vehicles. Our technicians can install equipment on your vehicle of choice, wherever you may be in Hobart.
Why Should You Use Our Cel-Fi GO Installation Services?
Effectively boost and distribute a 3G/4G Telstra or Optus mobile signal within your car, 4WD, van or truck.
Our team has years of experience installing and maintaining a variety of modern antenna solutions and technology
Exceptional workmanship & professionalism
Efficient and effective installation, so you'll be on the road and receiving strong mobile reception in no time.
Most competitively priced installation services in Hobart
Read What Our Clients Say
Antenna Installation Specialists was very efficient and kept me informed at each stage.
Great service. They took on a difficult job and did it quickly and efficiently. Would recommend for sure.
Very prompt in contacting us and talked us through options. Extremely knowledgeable and helpful