SatKing Installation Hobart
Fully Automatic Motorised Satellite TV System Installations
Contact us today to arrange installation of SatKing ProMax or Orbit Systems.
Antenna Installation Specialists are experts at installing SatKing satellites on caravans, motorhomes, and other vehicles. With our services, you can enjoy Foxtel or VAST satellite TV with crystal clear, High Definition reception whenever you're on-the-go.
SatKing ProMax Installation
The SatKing ProMax is a fully automatic satellite TV dish system that provides big performance in a convenient size. This device gives you access to High Definition Foxtel and VAST satellite TV when you're travelling. The ProMax is suitable to be installed on caravans, campervans, motorhomes and other motorised vehicles. If you've recently purchased a new SatKing ProMax system, Antenna Installation Specialists are here to assist you by providing excellent installation services.
The most advanced system on the market, combined with the best installation services in Hobart, you can depend on SatKing ProMax & Antenna Installation Specialists to power up your next adventure with reliable reception. Enjoy your favourite shows on Foxtel or VAST in crisp HD when you're travelling around Tasmania and Australia.
Top Benefits Of Our SatKing ProMax Installation Services
Highly competitive prices on all of our antenna & satellite installation services in Hobart
Unbeatable workmanship from skilled technicians
Peace of mind of having an expert install your brand new system
Enjoy a system that has built-in GPS and is automated to locate satellites, is durable, and offers great space savings.
Antenna Installation Specialists can readily install your brand new SatKing ProMax onto your caravan, motorhome or van. When you use our services, you know your equipment is properly installed and ready to go when you are! Keep the kids entertained on your next family road trip, and never miss your favourite show or grand final when you're away from home.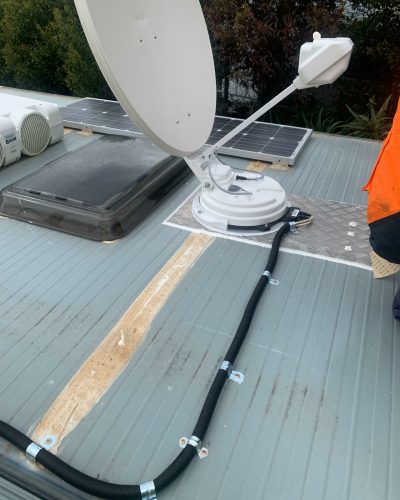 SatKing Orbit Installation
Our antenna technicians are well equipped and ready to install SatKing Orbit systems on vehicles throughout Hobart. This system is a great option for those looking for value, with plenty of features at an affordable price. Don't leave the installation to yourself – at Antenna Installation Specialists, our team are highly trained professionals who handle your equipment with care, and utilise modern technology to effectively install your system. No hassle, no fuss.
Why Use Our SatKing Orbit Installation Service?
Antenna Installation Specialists have been installing satellites and antennas for residents of Hobart for many years
We guarantee proper installation of your SatKing Orbit, ensuring you can enjoy all of its VAST & Foxtel compatibility features, and the automatic self aligning features are working correctly
The most competitive prices in Hobart and Southern Tas
Friendly, highly trained professionals.
Ready to take the Orbit on the road? Contact Antenna Installation Specialists to arrange installation of SatKing Orbit on your vehicle.
The Ideal Caravan & Motorhome Satellites
Planning a trip up the east coast in your van? Maybe you have a cross-country adventure planned. Wherever your adventures take you, a SatKing flat panel antenna will ensure you're never without reception on the road.
Get in touch with us on 0420 998 592 or complete our online form to discuss your on-the-go satellite and digital TV needs, and to arrange installation.
Read What Our Clients Say
Clear communication and friendly. A proficient completion of the job.
The job is done. Tradie responded immediately. They did the job and very promptly.
Did a good job. Listened and resolved with knowledge and solid execution.