If you've recently purchased a new television, had a brand new antenna installed, or simply want to improve your viewing experience, what better way to enjoy your shows than a perfectly mounted TV set! 
While any homeowner can attempt to install their television to the wall, it takes skills and experienced hands to ensure proper TV wall mounting.
Why Hire a TV Wall Mounting Specialist?
It may look easy on tutorial videos, but it's actually harder than it seems. You need to know the perfect bracket that goes along with your television. The placement is also one essential factor to consider in making sure it suits your viewing preferences. 
If installed by inexperienced hands, you might be doing more harm than good to your new television.
Electrical cables might be plugged in the wrong places and result in risks to the people installing it.
In the worst case scenario, an incorrectly installed TV could fall and break, or injure you or a loved one. Don't risk a costly and dangerous mistake, contact our professional team who can readily and effectively install your TV wall mount. 
Avoid electric shocks, broken Televisions, crooked brackets and worse by getting in touch with Hobart's best TV Wall Mounting service providers – Antenna Installation Specialists.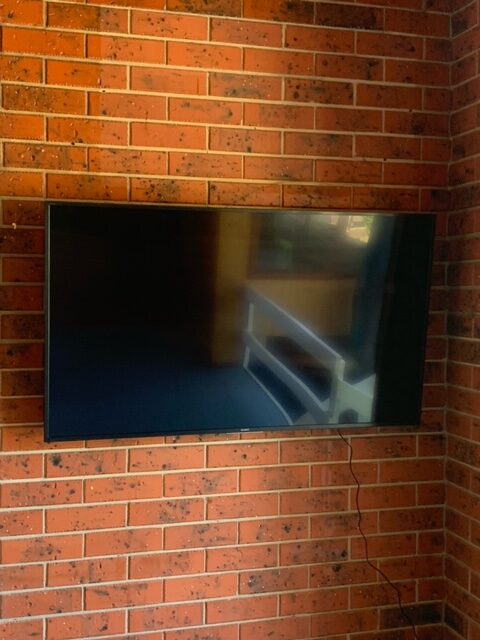 Antenna Installation Specialists are the experts you can trust when it comes to TV wall mounting. We have been providing reliable TV installation TV wall mounting services to many clients throughout Hobart for several years. The best thing about our installation services is that we are very professional at what we do. 
We make sure to have the TV wall mounting done on a one-time basis, with minimal disruption in your home.
Why Should You Get Your TV Wall Mounted?
Antenna Installation Specialist's have installed wall mounted televisions for many Hobart homes and businesses. Popular reasons for having your TV wall mounted include:
Safety from exposed cables
A mess-free, modern look
An amazing television viewing experience at home
Getting your TV mounted on the wall puts it out of harm's way. It is an excellent way to avoid accidents, especially if you have children or pets in the house. Our team at Antenna Installation Specialists makes sure that your TV is secured and well-attached, preventing them from falling over.
We can easily adjust the level of the TV wall mounting according to your preference. Our team can also choose a bracket that gives a slimmer layout. That way, you don't only enjoy the best viewing experience, but such set-up also complements your home's interior design.
With a wall mounted TV, all your cords and wires can be concealed, giving your living room and other areas of the house a sleek and modern look. 
Wall mounted TVs offer an affordable, brand new way to enjoy TV and relax. Impress your guests with our hassle-free, one-time service!
We cater to all kinds of TV, regardless of size and weight. From our experience, we can readily determine the most suitable bracket for your television. We also offer advice on the placement that will give an optimal viewing experience for you and your family.
Need More Digital TV Ports in Your Home?
Enjoy HD digital Television from bedrooms, the kitchen, home theatre, or even outdoors with our data port installation service. At Antenna Installation Specialists, we have all of your home entertainment needs covered.
Ready to level up your TV viewing experience? Contact our team for reliable TV wall mounting services and get a FREE quote.
Read What Our Clients Say
Antenna Installation Specialists was very efficient and kept me informed at each stage.
Great service. They took on a difficult job and did it quickly and efficiently. Would recommend for sure.
Very prompt in contacting us and talked us through options. Extremely knowledgeable and helpful